Coronavirus (COVID-19) Update
The Sukhothai Shanghai continues to remain vigilant and has implemented stringent precautionary measures to provide a clean environment to safeguard the wellbeing of our guests and employees. 
Our employees are constantly reminded to maintain good personal hygiene through preventive actions such as thorough hand washing with water and soap, staying home if feeling unwell and avoid close contact with anyone showing symptoms of respiratory problem.
We will closely monitor the development of the outbreak, maintain close communication with the local health and hygiene authorities and will take appropriate measures in accordance with the situation.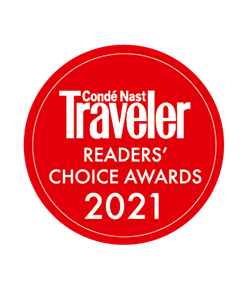 Condé Nast Traveler Readers' Choice Awards 2021
The Sukhothai Shanghai has been recognised as the #10 in Asia China Hotels.

2021 TripAdvisor Travellers' Choice Award
The Sukhothai Shanghai has been recognised as a 2021 Travellers' Choice Award Winner. This achievement celebrates hotels that consistently deliver fantastic experiences to travellers around the globe, having earned great traveller reviews on Tripadvisor over the last 12 months. This Award means that The Sukhothai Shanghai is in the top 10% of hotels worldwide.

Sharecare Health Security VERIFIED™ with Forbes Travel Guide
The Sukhothai Shanghai is proud to announce that it has become Sharecare Health Security VERIFIED™ with Forbes Travel Guide. This verification comes with an easily identifiable "seal of approval" – the Sharecare VERIFIED™ with Forbes Travel Guide badge – based on a hotel's compliance with expert-validated best practices that minimise the risk and impact of COVID-19 and potential future public health events.
Contemporary Design
A masterpiece of architecture firm Neri&Hu, the interior originated from the concept of an urban oasis in the midst of the hustle and bustle of city life. With custom furnishings and a curated selection of artworks complementing the atmosphere, every corner of the space reflects a contemporary, designed-oriented interpretation of nature, specifically the notion of gardens.
The Sukhothai Difference
Hospitality as an art form

Caring for guests as we would at our own homes. We take an empathetic, personalised approach, reaching to our guests through knowledge of personal preferences, and passionate yet discreet attentiveness.

An Ode to Design

Thoughtful layouts and a soothing blend of natural materials creates a scene pleasant to the modern eye, with a timelessly sophisticated aura for a lasting impression.

Curating Experience

The Sukhothai Shanghai proudly presents exceptional signature experiences to our guests. With details just right for every occasion and service that exceeds expectations, we strive to deliver moments that inspire.